Facts About North Country Real Estate Guide
SIZE- 8 1/4 X 10 3/4 (Magazine Size)

PAPER- All Full Color High Quality Paper

AD SIZES- Full Page (7.5" X 10.25"), Half Page Vertical (3.62" x 10.25"), Half Page Horizontal (7.5" x 5"), Quarter Page (3.62" X 5")

DISTRIBUTION- Professionally distributed by North Country Distribution Service, our in-house distribution company. Our guide is delivered to the highest traffic locations in Essex County, Clinton County, Warren County, Franklin County, Hamilton County and Saratoga County. Also distribution in Albany County June, July and August. Also we reach the entire Adirondack Park, Lake Champlain Region and Lake George Region

CIRCULATION- We are the largest circulated real estate guide in Upstate New York covering over 6 counties.

MAILING- Our guide is mailed all over the country and world to those who subscribe.

RACKS- Our freestanding magazine racks are in all major supermarkets and all high traffic points throughout our distribution area. They are used exclusively for our real estate magazines.

DISTRIBUTION POINTS- North Country Distribution has over 800 high traffic distribution locations. Both year round and seasonal locations. Locations include malls, restaurants, motels, chambers of commerce, service stations, info centers, real estate offices, supermarkets, mini marts and banks, offices and retail outlets. Our magazine is professionally distributed by our sister company NORTH COUNTRY BROCHURE DISTRIBUTION

SERVICES- Free ad set up, ad layout, proofs, camera-ready copy and distribution.

FREQUENCY- Pick us up every month throughout the year!

Download & browse our latest guide-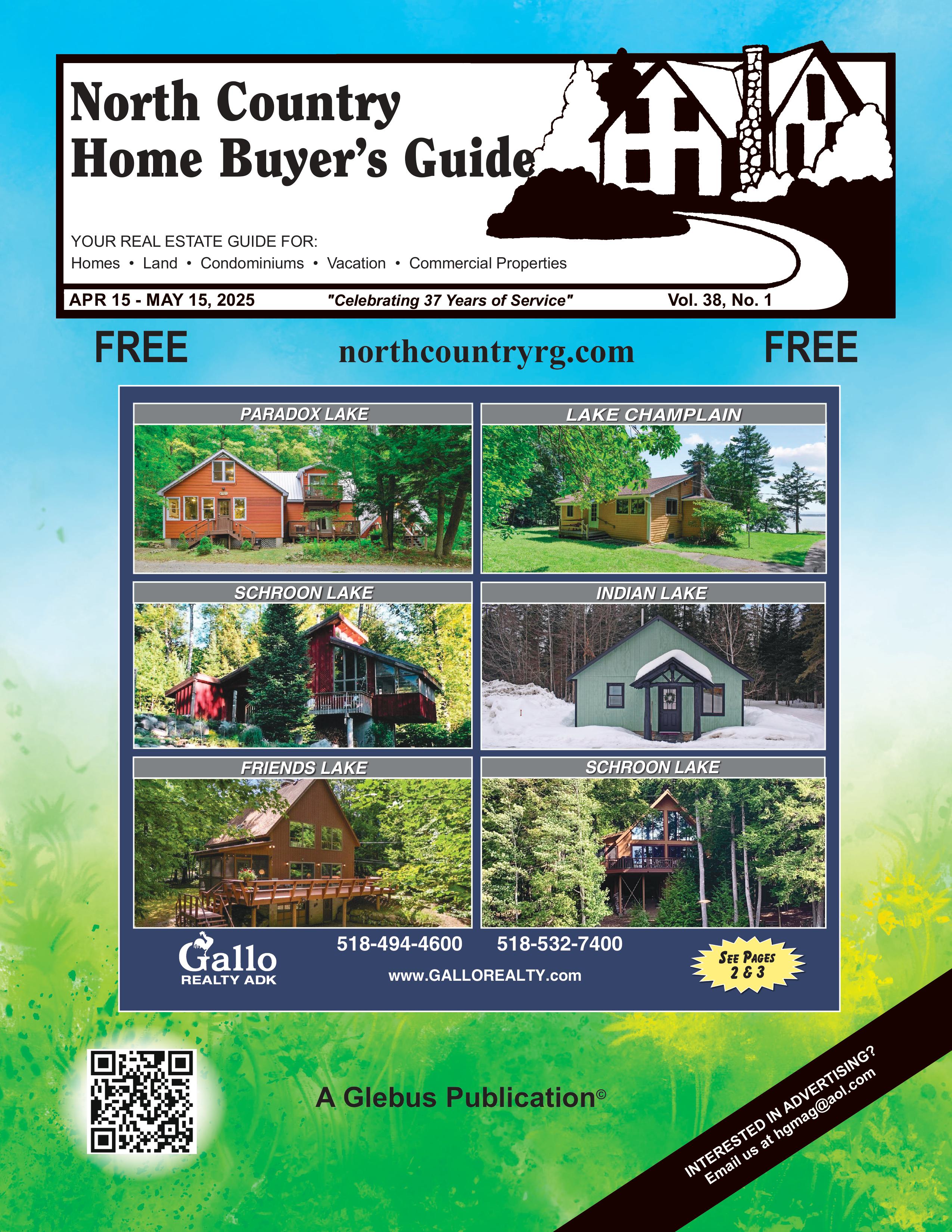 Our Web Sites:
www.northcountryrg.com
www.warrencountyhg.com
www.clintoncountyhg.com
www.northcountrydist.com
About Us:
The NORTH COUNTRY REAL ESTATE GUIDE is published by GLEBUS ENTERPRISES a leader in real estate guide publishing. We also own NORTH COUNTRY DISTRIBUTION, a professional brochure distribution company that distributes FREE literature throughout the Northeast and Canada.
hgmag@aol.com - ad submission and layout
tjg@westelcom.com - publisher phone:
518.563.8617
Fax: 518.563.0087